June 2021
---
Trenport sells East Midlands Gateway high spec logistics asset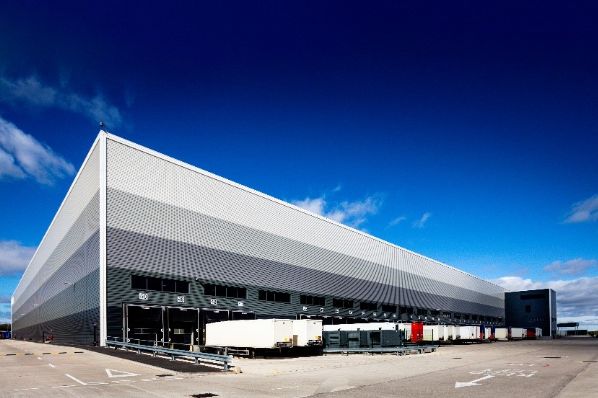 Net leased on a long-term basis to the UK's second largest pure-play online retailer, The Very Group, with strong tailwinds from the eCommerce boom
Located in the UK's Golden Triangle, capable of reaching 90% of the British population within a four-hour drive
The asset benefits from substantial ESG credentials with a 'Very Good' BREEAM rating and significant investments in employee wellbeing
Trenport and SEGRO built the facility under a tripartite building contract. Trenport added their specialist supply chain expertise to the development to deliver on time and price. An automated warehouse that the CEO of Shop Direct described as "delivering beyond all expectations". "Blackbrook was advised by CBRE, Ernst & Young and Allen & Overy, and Trenport was advised by JLL, Cushman & Wakefield and Maples Teesdale. The purchase price is undisclosed."
Blackbrook Capital (Blackbrook), a European independent real estate investment firm focusing on mission-critical commercial property, announced the acquisition of Trenport's 550,000 sqft high-spec logistics facility at East Midlands Gateway in the United Kingdom.
Located next to East Midlands Airport, the UK's largest cargo airport after Heathrow, and within one of the UK's designated "freeports", the facility is inside the UK's logistics "Golden Triangle", considered the best logistics region in the country capable of reaching 90% of the UK population in under four hours. It has been built to high specifications with 7T floor load capacity, substantial parking provisions, ample manoeuvring area and 18m clear heights.
Known as "Skygate", the facility also boasts class-leading ESG credentials, with a 'Very Good' BREEAM rating, rainwater harvesting, and preparation for solar panels on the roof. In addition, TVG specified numerous employee wellbeing amenities, including a gym, an all-weather multi sports pitch, break-out spaces and a multi-faith room – features which are increasingly important with the pandemic highlighting the need to provide facilities that maintain a quality work-life balance for all employees.
The cross-docked logistics asset, which came online in 2020, was completed specifically for The Very Group (TVG), the UK's second largest pure-play online retailer, and is subject to a long-term triple-net lease.
As the backbone of TVG's operations with a bespoke automation system and gold standard automated e-commerce build specifications, the asset is one of the most advanced logistics centres in the UK. Relocating to Skygate has enhanced TVG's significant resources enabling the online retailer to provide next day delivery on orders made 24 hours a day, greatly improving the customer experience. The facility also has scope for expansion in line with business growth.
The UK e-commerce sector has experienced an unprecedented boom throughout the pandemic, growing by 46% in 2020 alone. With a history dating back 100 years and a leading online brand (Very.co.uk), TVG is well-positioned to capitalise on this continuing trend.
Trenport Chief Executive Richard Hall, said: "Blackbrook performed as they promised and like many others, see the growing importance of specially engineered, environmentally-friendly automated fulfilment centres. We are grateful to SEGRO for their expertise and to our customer tenant, the Very Group who we have worked hard with to develop an advanced automated logistics centre that has the potential to scale and has also been designed with employees' wellbeing, productivity and retention in mind."
Arvi Luoma, Co-Founder & CEO of Blackbrook, said: "Skygate fits perfectly within our investment strategy of acquiring quality, mission-critical assets with good ESG credentials. The facility not only benefits from the highest specifications required by logistics occupiers, but also TVG has made its ESG commitments clear, investing in sustainable infrastructure and the wellbeing of its employees. Our aim is to invest in commercial real estate assets where we see fundamental long-term value in the property and in developing a partnership with occupiers who show strong growth potential, making this asset future-proofed."
---
About Blackbrook
Blackbrook Capital (Blackbrook) is an independent real estate investment firm focusing on mission-critical commercial real estate across Europe. It specialises in the acquisition of Net Lease industrial assets, and the provision of structured corporate Sale-Leaseback and Build to Suit development financing.
Its primary sector focus and specialism includes industrial & logistics as well as defensive retail, healthcare, strategic office and other critical operating assets.
Blackbrook was established on the principle that commercial real estate occupiers are better served investing their capital in their core business activities and growth initiatives, rather than tying up valuable capital in real estate assets. Blackbrook looks for opportunities where it can add significant value for tenants who are looking to grow and adapt their businesses, including through a transition to a greener and more environmentally sustainable future.